Miles Chart
This program provides a chart of the hiking trails on the island. It is based on the chart created and included in the book. The program displays the same chart, but when you move the cursor onto it, it highlights the items selected and displays a small dialog with the milelage and two destinations. It is included in the "Base Camp", "Trip Planner" and "Itinerary Generator programs, but can run stand alone. It is available here as a "free" download. If you have the "Base Camp" or the "Itinerary Generator" program or, are downloading the "Demo" program, the "Miles Chart" will be installed as part of those and there is no reason to download it by itself.

Note: The program is ONLY available in Windows format. I have been told of a Windows shell that can be installed on the MAC, but no one one has contacted me about testing it. Any help on this would be greatly appreciated!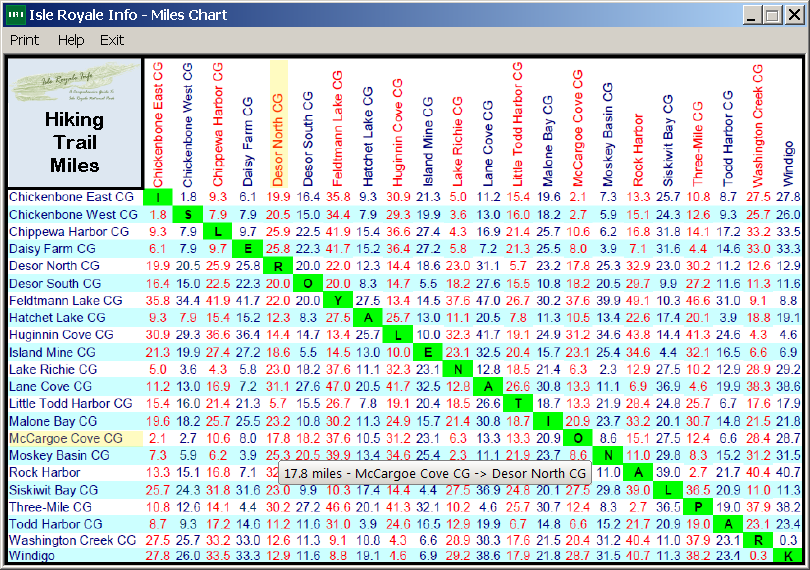 Once you click on the link, you will be shown a window similar to the one below:

Select "Save as" and save it to the directory where you want the program. Make sure you note where you have saved it, and when it has finished downloading, go to that directory and click on "iri miles.exe" to start the program. You can also right-click on the program and select "Send to > Desktop (create shortcut)" to create a shortcut on your desktop for the program.

Below is a download link for the program in "zip" format. Some browsers will not allow you to download an "exe" file. If this is the case, download this file and "extract" it to the directory you wish to save the program in. The download and running process is similar except the file needs to be "extracted" first.