Download Demo Program
Note: The programs are ONLY available in Windows format. I have been told of a Windows shell that can be installed on the MAC, but no one one has contacted me about testing it. Any help on this would be greatly appreciated!

---
What the Demo Program Is
The "Demo" program will allow you to see examples of the book and try the programs. It will install and allow you to read samples of of all of the chapters with sample pictures and charts. The "Base Camp" program is fully functional except it will not allow updates to the chapters. The "Trip Planner" program is 100% functional, but will only operate for 15 days from installation.


---
Installation Program Download
These links are setup to download the installation program in either "exe" or "zip" format. A "zip" version is included at the bottom of this page because some browsers and security settings will not allow you to download an "exe" file. To download, "left-click" on the link and a download should begin.

Top
If you download the link for the "exe" and start it, you will be shown a window similar to the one below:

Typically it is best to select "Save as" and save it to some temporary directory on your computer and run the file after it is downloaded. Make sure you note where you have saved it and run the program after it has been downloaded. You can also select "Run" and the program will run once it is downloaded.

Note, if you are running Norton antivirus (or something similar) the installation program may be flagged and you may see a warning window similar to the one below:


The program is flagged because it is new and has few users. If you click on "Options" in this screen you will see a screen similar to the one below:
When you read the message, you can see that it is because it does not have many users and does not have a history. Select "Restore and exclude this file" and it will be allowed to be downloaded. Or, select "Restore" on the first screen. Once this is done, you will have to select "retry" from the download window. It will then download without a problem.


When prompted to run the program, you may also see a message similar to the one below:


Just select run and the installation program will begin.

---
Installation Program "Zip" File Download
The following link is provided to download a "zip" version of the installation program. The installation process is the same as the "exe" file except you will need to extract the "zip" file first.

Installing the Program
Once you download the "Installation Program" select "Run" and the main screen will come up as shown below.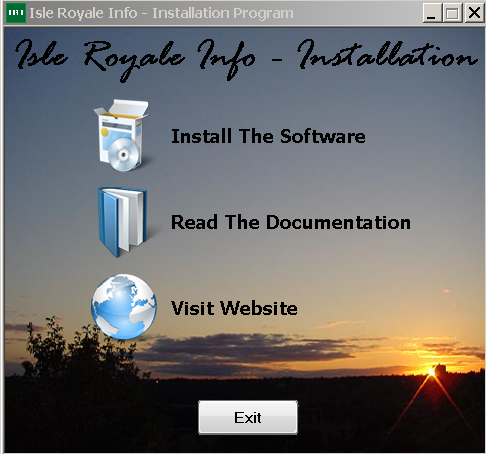 Included in the program is an Installation Manual. This guide explains the installation process step by step.
---
Installation Hints

Windows:
Depending on the "User Account Control Settings" on your computer, you may see a screen similar to this screen below.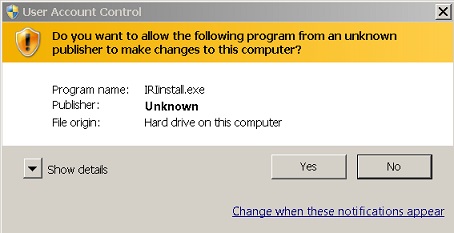 In this window it lists the program name "IRIinstall.exe and says "Publisher: unknown". As long as that is what it says, simply select "Yes" and allow the program to run.
---
Norton Antivirus:
When running the file IRIinstall.exe with Norton Antivirus (Symantec) it may come up with an error similar to this:
"Norton has detected this program has WS.Reputation.1 virus associated with it. WS.Reputation.1 is a detection for files that have a low reputation score based on analyzing data from Symantec's community of users and therefore are likely to be security risks. Detections of this type are based on Symantec's reputation-based security technology. Because this detection is based on a reputation score, it does not represent a specific class of threat like adware or spyware, but instead applies to all threat categories. The reputation-based system uses "the wisdom of crowds" (Symantec's tens of millions of end users) connected to cloud-based intelligence to compute a reputation score for an application, and in the process identify malicious software in an entirely new way beyond traditional signatures and behavior-based detection techniques."

If you look at the message, this is due to the program being new and not having many users. You can simply say "run anyway" and the program will run. To disable this permanently, right click on the program and select "Norton File Insight". You will see a screen listing the reasons why and a selection called "Trust Now". This will allow the program to run.
---
Manual Download Link
If either of these links do not work, or you would rather receive the Installation Program attached to an email, send an email via the "Contact Form" link at the bottom of this page and request an email with the "zip" file attached.